Kilimanjaro Route: The Machame Route
Photo Credit: Roy Grossinger
A 7-day Machame Route climb is perfect for trekkers on a budget. This popular Kilimanjaro route includes fewer amenities in camp and lower weight limits** on luggage, while still offering the peace of mind you get by choosing Thomson.
KILIMANJARO ROUTE HIGHLIGHTS
Additional acclimatization day on Kilimanjaro
Challenging nighttime summit bid
Private toilet tents & nutritionist-planned meals
Perfect for group and charity treks
Thomson's most budget-friendly option
Personal porters available to all trekkers*
7 days trekking, 9 days in Tanzania
*Personal porter hire available for an additional fee
**Machame trekkers are allowed 26 lb/person of gear vs. 33 lb/person on our other climbs
Extend your trip with a safari!
Visit the Serengeti and Ngorongoro Crater on a 5-day or 7-day safari; call us for custom safari options.
Unsure which Kilimanjaro route best fits your needs? See how they stack up on our Route Comparison page.
Arrival Day
Arrive Tanzania
A staff member will greet you at the airport and escort you to your lodge.
Overnight: Rivertrees Country Inn
Acclimatization Day
Arusha
Relax and acclimatize or independently schedule one of the many exciting activities available at your lodge (per availability; any additional costs paid directly to lodge).
Overnight: Rivertrees Country Inn
Trek Day 1
Begin Trek to Machame Camp
Begin your journey on narrow rainforest trails, where you'll set out with many other groups on this popular trail.
Overnight: Machame Camp (9,850')
Hours trekking: 5-7
Trek Day 2
Machame Camp to Shira 2 Camp
Vegetation gets sparser as you ascend into the heath, where alien-looking giant groundsels tower over the rocky slopes.
Overnight: Shira 2 Camp (12,795')
Hours trekking: 4-5
Trek Day 3
Shira 2 to Barranco Camp
Enjoy expansive views of the Barranco Valley from your camp at the base of the Barranco Wall.
Overnight: Barranco Camp (13,004')
Hours trekking: 6-7
Trek Day 4
Barranco Camp to Karanga
A challenging scramble up the Barranco Wall is rewarded with breathtaking views from the top. Continue over ridges and valleys before a steep hike to camp.
Overnight: Karanga Camp (13,231')
Hours trekking: 4-5
Trek Day 5
Karanga to Barafu Camp
As you near the summit, the landscape starts to resemble the surface of the moon. Keep an eye out for towering lava formations, remnants of Kili's fiery past.
Overnight: Barafu Camp (15,331')
Hours trekking: 3-4
Trek Day 6
Barafu to Summit/ Mweka Millennium Camp
Headlamps snaking up the mountain light your way during an overnight summit bid. Celebrate your success with a few quick pictures at the top before trekking much of the way back down the mountain.
Overnight: Mweka Millennium Camp (12,500')
Hours trekking: 8-10 to Summit/ 4-7 to Mweka Millennium Camp
Trek Day 7 / Departure Day
Complete Trek/ Return to North America
Complete your descent through the rainforest to Mweka Gate at 5,364 feet. Land Rovers will be waiting to take you back into town for a shower and some rest before your transfer to the airport this evening.
Day room: Planet Lodge
Hours trekking: 4-6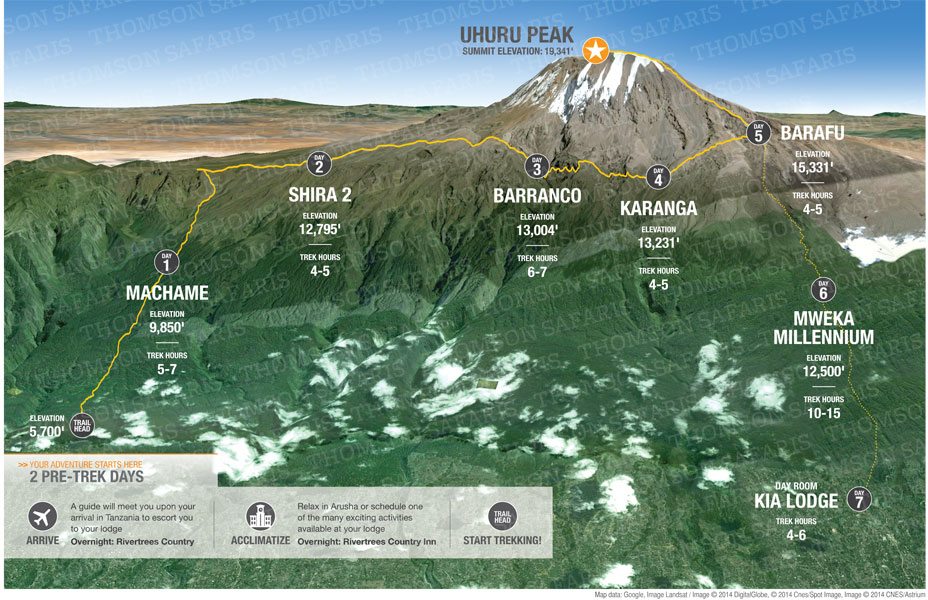 Rivertrees Country Inn
This former coffee plantation blends simple elegance and modern convenience. Farmhouse-style rooms overlook the Usa River. Enjoy hearty meals in a beautiful open-air thatched-roof dining area.
Mountain Camps
Camp in comfort in customized all-weather tents with upgraded zippers, flysheets, and closed-cell full-ground pads. Private toilet tents and solar-lit dining tents are provided daily. Hot meals are prepared from fresh ingredients by the camp's chef. In the afternoons, hot drinks and snacks are provided.
Planet Lodge
Enjoy cozy accommodations set among lush gardens at this Arusha mainstay. Stunning views of Mt. Kilimanjaro make it a perfect place to start or end a trek.
7 days
International airfare not included
Single accommodations: $480
Personal Porter: $385
Can't find a date that works for you? Call us to set up a private trek!
---
Please note: We can't guarantee departures with only one guest. A small group supplement of $500 per person will be applied to departures with two or three participants.
All prices are subject to change without notice. Every effort has been made to produce this information accurately. We reserve the right to correct errors.
ACCLIMATIZATION DAY

ARUSHA

With its scenic backdrop, friendly people and ever-improving infrastructure, Arusha makes for the perfect base from which to start or end your adventure.

TREK DAY 1

RAINFOREST

Spend the first day of your trek under the tangled canopy of moss-coated vines. Learn how to control your gait and discover what it truly means to go "pole, pole."

TREK DAY 1

MACHAME CAMP

Settle in at your first camp, nestled in the verdant forest and fall asleep to nature's symphony of sounds.

TREK DAY 2

HIKE OUT OF THE FOREST

Make a steep ascent out of the rainforest, passing through a misty, cloud-covered terrain of volcanic rock.

TREK DAY 2

SHIRA PLATEAU

Take in some of Kilimanjaro's most fascinating views, including your first sighting of snow-capped Kibo. Trust us - this image will forever be etched into your memory.

TREK DAY 2

SHIRA CAMP 2

Your camp is perfectly situated to bask in the glow of the magical sunsets. Sit back and watch the clouds roll over layers of Shira's jagged slopes.

TREK DAY 3

ALPINE DESERT

Continue along rocky terrain on a long, steady climb through the alpine desert. Enjoy the extraordinary views surrounding you.

TREK DAY 3

BARRANCO VALLEY

The valley floor is filled with Giant Groundsels, also known as "Dr. Seuss trees." This type can only be found on Kili, and can grow as tall as 20 feet!

TREK DAY 3

BARRANCO CAMP

Retire to Barranco Camp, which sits in the shadow of the Barranco Wall and see the world from above the clouds.

TREK DAY 4

BARRANCO WALL

Ready for an adrenaline rush? Scramble up the Barranco Wall and be sure to show "Kissing Rock" a little love when you pass by it at the top of the wall.

TREK DAY 4

THE WORLD ABOVE THE CLOUDS

Take a break! You've earned a few moments of quiet reflection at the top of the wall. Look out at the world in front of you and let the adventure sink in.

TREK DAY 4

KARANGA VALLEY HIKE

Venture through the mist-covered valleys and over some of the world's highest plateaus. Follow the trail over a rolling, rocky terrain directly to your next camp.

TREK DAY 4

KARANGA CAMP

Sleeping at a lower altitude tonight will further help you acclimatize. On a clear night, you can see the lights of Moshi town.

TREK DAY 5

FIELDS OF SCREE

You are getting closer and closer to the summit! Continue your trek through a field of small, loose stones known as "scree."

TREK DAY 5

HIKE TO BARAFU CAMP

You're now as high as 15,000 feet in the air! Enjoy the extraordinary views as you pass massive volcanic formations.

TREK DAY 5

BARAFU CAMP

Spend the night in this lunar landscape where you may see the hanging glaciers that drape Kilimanjaro's summit cone.

TREK DAY 6

SUMMIT DAY!

Fire up your headlamps! This is the moment you've been waiting for. Your summit bid begins just after midnight.

TREK DAY 6

STELLA POINT

Make your way to Stella Point and congratulate your fellow trekkers on a major accomplishment. Next up: final ascent!

TREK DAY 6

GLACIERS

Snow in Africa? Consider yourself one of the lucky few to see the famed glaciers of Kilimanjaro before they disappear.

TREK DAY 6

UHURU PEAK

Success! You did it! Hugs, photos and 'pats on the back' are in order. Spend some time taking it all in.

TREK DAY 6

VIEW OF MAWENZI PEAK

From Uhuru Peak, look out at the jagged, tower-like Mawenzi Peak and the slopes below. It's a spectacular sight that you'll never forget.

TREK DAY 6

DESCEND

Begin your slow, careful descent over scree-covered terrain. Only 8,000 feet to go to your next camp!

TREK DAY 6

MWEKA DESCENT ROUTE

Follow the blanket of clouds in front of you. Continue your descent from the Arctic to the Heather Zone, where you'll spend the night.

TREK DAY 6

MWEKA MILLENNIUM CAMP

Sleep well tonight, knowing that you just accomplished something few others have experienced.

TREK DAY 7 / DEPARTURE DAY

RAINFOREST

Hike through the lush, green canopies of the rainforest to the gate - a warm, vibrant end to your trek.

TREK DAY 7 / DEPARTURE DAY

MWEKA GATE

Celebrate the completion of your mountain adventure with a farewell lunch at the park gate. This is your time to thank those who made your trek a success!

TREK DAY 7 / DEPARTURE DAY

PLANET LODGE

Land Rovers will transfer you from Mweka Gate to your dayroom at Planet Lodge. Relax by the pool or in your room and look back at Kili with a newfound respect.

TREK DAY 7 / DEPARTURE DAY

PLANET LODGE

Rest up! Use your dayroom for a shower and some relaxation before your flight home this evening.
See more of what Tanzania has to offer with a post-trek safari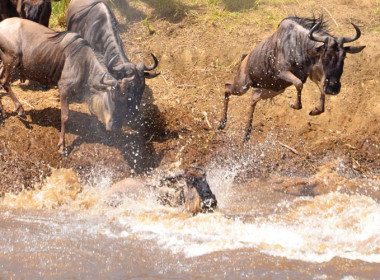 5-DAY
Crater & Plains Safari
See the Great Migration and hundreds more species in breathtaking locations like the Serengeti and the lush Ngorongoro Crater. It's the perfect complement to your Kilimanjaro climb!
LEARN MORE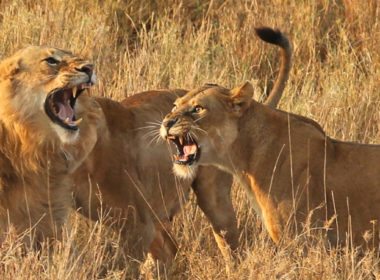 7-DAY
Highlights Safari
Our premiere safari extension features visits to remote Maasai communities, world-class wildlife viewing in the Serengeti and Ngorongoro Crater, and a stay in an exclusive private nature refuge.
LEARN MORE